Love Shayari in English brings out the inner feelings and emotions of a person. Love needs to express and convey the feelings of the heart. Love Shayari in English is an effective way of expressing feelings of love. To express love with their lover, people express their feelings through English Love Shayari.
If you are looking for a love poem like True love Shayari, new love status for WhatsApp DP or wallpaper and want to share it with your friends, girlfriend, boyfriend or any person then you are on the right site because we have the latest collection of English Love Shayari. We are making best love Shayari, the latest love Shayari, Hindi love Shayari, two-line love Shayari in English.
Here on this page, we have a large collection of beautiful Love Shayari in English and Hindi with pictures and amazing quotes. Read this Shayari for love impression in both Hindi and English languages.
I hope you liked this Love Shayari in English Collection. Love Shayari is a type of stave, which enables a person to express their deepest feelings from the base of the heart through words.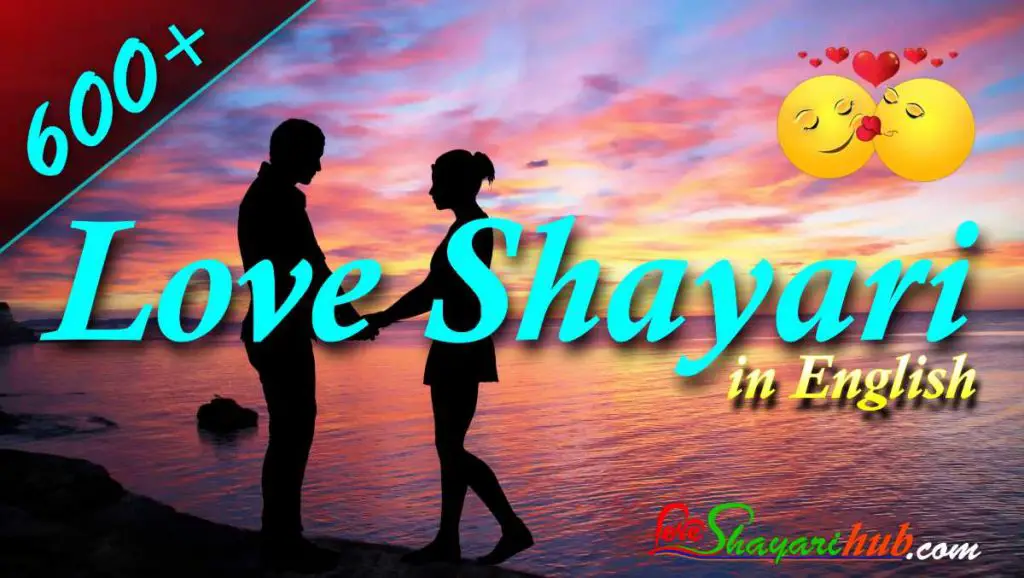 Love Shayari in English ???
Aap to manzil ko mushkil samajte hain,
Hum aap ko manzil samajte hain !
Bada fark hai aapke or hamare nazariye mai,
Aap hame sapna or hum aap ko apna samajte hai !!
Jadu Hai Teri Har Ek Baat Me
Yaad Bahut Aate Ho Din Aur Raat Me !
Kal Jab Dekha Tha Maine Sapna Raat Me
Tab Bhi Apna Hi Hath Tha Mere Hath Me !!
Kitna pyar hai tumse yeh jan lo
Tum hi zindagi ho meri Is baat ko maan lo !
Tumhe dene ko mere paas Kuchh bhi nahi
Bas ek jaan hai Jab ji chahe maang lo !!
Aapki Ada Se Hum Madhosh Ho Gaye,
Aap Ne Palat Kar Dekha To Hum Behosh Ho gaye !
Yehi Ek Baat Kehni Thi Aapse,
Na Jaane Kyun Aapko Dekhthe Hi Hum Khamosh Ho Gaye !!
Aap khud nahi janti aap kitni pyari ho,
Jaan ho hamari par jaan se pyaari ho !
Duriyon ke hone se koi fark nahi padta,
Aap kal bhi hamari thi aaj bhi hamari ho !!
na koi kisi se door hota hai,
na koi kisi ke krib hota hai !
wo khud he chal ke aata hai,
jo jiska nasib hota hai !!
Tera Saath hai Toh mujhe kya kami hai,
Teri har muskan se mili mujhe kushi hai !
Muskuraate Rehna isi Tarah humesha,
Kyonki teri is muskan mein meri jaan basi hai !!
Nazar Chahti Hai Deedar Karna,
Dil Chahta Hai Pyaar Karna !
Kya Bataoon Is Dil Ka Aalam,
Nasib Me Likha Hai Intezar Karna !!
Na Ruthna Humse Hum Mar Jayenge,
Dil Ki Duniya Tabaah Kr Jayenge !
Pyar Kiya He Humne Koi Mazak Nahi,
Dil Ki Dhadkan Tere Naam Kr Jayenge !!
nigaho mein aur koi pyaar ke kabil na rahe,
is smandar ka aur koi sahil na rahe,
chand jaisa yaar mila hume zamin par,
asman ka chand bi ab didar ke kabil na rahe !!!
Tum ho shubah sham ki tarah,
Tum ho khushiyo ke paigam ki tarah.!
Hamne kab bhulaya hai aapko,
Tum yaad rahte ho mujhe mere naam ki tarah.!!
Uski Chahat Se Ikrar Na Karte,
Uski Kasmo Ka Aitbar Na Krte,
Agar Pata Hota Hum Sirf Mazak hain Unke Liye,
Kasam Se, Jaan De Dete Par Pyar Na Krte.!!
kab vo zaahir hoga aur hairaan kar dega mujhe,
jitanee bhee mushkil mein hoon aasaan kar dega mujhe,
roobaroo karake kabhee apane mahakate surkh honth,
ek do pal ke lie guladaan kar dega mujhe.
nigaahen jab milee unase tabhee dil haar baitha hoon,
main usape vaarane sab kuchh liye taiyaar baitha hoon,
agar ik baar kah de vo ki aa jao mere dil mein,
main duniyaabhar kee rasmon ko bhulaane ko bhee baitha hoon.
tej baarish mein kabhee sard havaon mein raha,
ek tera zikr tha jo meree sadaon mein raha,
kitane logon se mere gahare rishte the magar,
tera chehara hee sirph meree duaon mein raha.
betaab sa rahane kee aadat see pad gaee,
dil mein unake pyaar kee khushaboo bikhar gaee,
aankhon se gujare the vo ek khvaab kee tarah,
unakee haseen soorat mere dil mein utar gaee.
mohabbat kee ye iptida chaahata hai,
mera ishk tujhase vafa chaahata hai,
ye aankhon ke dariya nasheele-nasheele,
in aankhon mein dil doobana chaahata hai.
use rooth jaane kee aadat padee hai,
manaata hoon phir roothana chaahata hai,
use cheer kar main dikhaoon to kaise,
ye dil usako beinteha chaahata hai.
ab kisase kahen aur kaun sune jo haal tumhaare baad hua,
is dil kee jheel see aankhon mein ek khvaab bahut barbaad hua,
yah hijr-hava bhee dushman hai us naam ke saare rangon kee,
vo naam jo mere honthon par khushaboo kee tarah aabaad hua.
hone lageen duaen mukammal meree,
aadat hueen hain meree adaen teree,
aankhon hee aankhon se vo dil ke paas hone lage,
jo the kal tak anajaane ab khaas hone lage.
vo ek ajanabee hai magar rooh sanaas lagata hai,
meree tarah mujhe vo bhee udaas lagata hai,
karoon talaash to ho shak vajood par usake,
jo aankhen band karoon to aas-paas lagata hai.
too mohabbat nahin ibaadat hai meree,
too jarurat nahin jeene kee aadat hai meree,
ban gaya hoon teree yaadon ka kaidee,
ab to bas too hee jamaanat hai meree.
ham tumase door kaise rah paate,
dil se tumako kaise bhula paate,
kaash tum aaeene mein base hote,
khud ko dekhate to tum najar aate.
har alphaaz mein ehasaas likha jaata hai,
yahaan par paanee ko pyaas likha jaata hai,
mere jajbaat se vaakiph hai meree kalam bhee,
pyaar likhoon to tera naam likha jaata hai.
khushaboo kee shuruaat bahaar se hotee hai,
din kee shuruaat tere deedaar se hotee hai,
hame intazaar hai tera sada ka kyoonki,
pyaar kee shuruaat ijahaar se hotee hai.
zikr karata hai dil subah shaam tera,
girate hain aansoo banata hai naam tera,
kisee aur ko kyon dekhe ye aankhen,
jab dil pe likha sirph naam tera.
itanee shiddat se mujhako na dekha karo,
lut na jae kaheen meree deevaanagee,
sanam aise patthar na pooja karo,
mil na jae use bhee kaheen jindagee.
tumase kuchh kahoon to kah na sakoonga,
door tumase rahoon to rah na sakoonga,
ab bechainee dil kee badh rahee hai,
ab tumhen dekhe bina rah na sakoonga.
aadat badal doon kaise tere intazaar kee,
ye baat ab nahin mere ikhtiyaar kee,
dekha nahin tujhako phir bhee yaad kar liya,
aisee basee hai khushaboo dil mein tere pyaar kee.
chaand ko apanee nigaahon mein utaaro to sahee,
ham chale aayenge dil se pukaaro to sahee,
dil kee dahaleej mohabbat se saja rakhee hai,
thoda sa vaqt hamaare saath gujaaro to sahee.
ai kaash ki koee aisa vaqt bhee aaye,
too mere kareeb… hamasafar hamakhyaal ho,
meree justajoo ban ke rahe ho har kadam,
ab mere sang meree zindagee ban ke raho.
main chaahata hoon main teree har saans mein miloon,
parachhaeeyon mein, dhoop mein, barasaat mein miloon.
koee khuda ke dar pe mujhe dhoondhata phire,
main bhee kisee ko pyaar kee saugaat mein miloon.
tadape hajaaron dil magar haasil na main hua,
too chaahata hai main tujhe yoon hee khairaat mein miloon.
dil mein kuchh aramaan jage aankhon mein nazaare hain,
gardish mein sitaare hain par aashiq ham tumhaare hain,
neendon ne hadataal karee aur yaadon ka hangaama hai,
jagee huee hain aankhen par inamen khvaab tumhaare hain.
kah dena chaand unase vo hamen bevafa na samajhe,
aankhon se door hain magar dil se juda na samajhe,
bhara hai dil mohabbat se magar majaboor rahate hain,
mohabbat kam na kar dena ki itanee door rahate hain.
tere pyaar mein do pal kee zindagee bahut hai,
ek pal kee hansee aur ek pal kee khushee bahut hai,
ye duniya mujhe jaane ya na jaane,
teree aankhen mujhe pahachaane mere lie yahee bahut hai.
oopar se gussa dil se pyaar karate ho,
nazaren churaate ho dil beqaraar karate ho,
laakh chhupao duniya se mujhako khabar hai,
tum mujhe khud se bhee jyaada pyaar karate ho.
kabhee tujhako paane kee chaah,
kabhee tere intazaar ka lutf,
kabhee teree yaad kee paravaah,
kabhee khaamosh sa takalluph.
dil kee dhadakan ko dikhaaya nahin jaata,
mohabbat kee aag ko bujhaaya nahin jaata,
laakh judaee ho is pyaar mein phir bhee,
zindagee ka pahala pyaar bhulaaya nahin jaata.
pyaar mein mila har dard upahaar hota hai,
pyaar vo hota hai jisamen intazaar hota hai,
sadiyon tak intazaar karate hain vo log,
jinhen apane pyaar par aitabaar hota hai.
Two-Line Love Shayari in English ???
Jisme Tum Shamil Ho, Wo Ek Pal Hi Kaafi Hai Mujhe !
Uss Pal Se Jyada Toh Zindagi Ki Khwaish Hi Nahi Mujhe !!
lamhon mein qaid kar de jo sadiyon kee chaahaten,
hasarat rahee ki aisa koee apana talabagaar ho.
chale aao kabhee tootee huee choodee ke tukade se,
vo bachapan kee tarah phir se mohabbat naap lete hain.
phizaon se ulajhakar ek haseen ye raaz jaana hai,
jise kahate hain mohabbat vo nasha hee kaatilaana hai.
mera resha-resha mujhamen tere hone kee gavaahee deta hai,
kya kam hai ki mujhe har jagah bas too hee dikhaee deta hai.
Jab bhi Dekhta hu Tumhe Lagta hai ye Din Naya hai !
Nigahein Tumko Dekhna Chahti hai Mere Dilko ye kya hua hai !!
Dil toot gaya to ab kya intajaar karu !
Tu hi bata ki tujhe aur kitna pyaar karu !!
Raat Ki Tanhayi Me To Har Koi Yaad Kar Lete Hai !
Subah Uthte Hi Jo Yaad Aaye Mohabbat Usko Kahte Hai !!
Meri Pagal Si Mohabbat Tumhe Bohat Yaad Ayegi
Jab Hansane Wale Kam Aur Rulane Wale Zayada Najar Ayegi.
laajavaab kar dete hain tere khayaal dil ko,
mohabbat tujhase achchha tera tasavvur hai.
tumhaaree khushaboo se mahakatee hain vo gazal bhee,
jisamen likhata hoon main ki tumhen bhool gaya hoon.
vo mujhase itanee mohabbat jataane laga hai,
kabhee-kabhee to mujhe khauph aane lagata hai.
saavan kee boondon mein jhalakatee hai unakee tasveer,
aaj phir bheeg baithe hain unhen paane kee chaahat mein.
khuda jaane mohabbat kaun-see manjil ko kahate hain?
na jisakee ibtida hee hai, na jisakee intiha hee hai.
apanee mohabbat pe itana bharosa to hai mujhe,
meree vaphaayen tujhe kisee aur ka hone na dengee.
uthane lage hain ab to is baat pe savaal,
vo meree taraph muskura ke dekhate kyon hain.