Love is a beautiful creation of God and True Love Shayari brings out the inner feelings and emotions of a person. True Love needs to express and convey the feelings of the heart.
True Love Shayari is an effective way of expressing feelings of love. To express love with their lover, people express their feelings through True Love Shayari.
If you are looking for a love poem like love Shayari, new love status for WhatsApp DP or wallpaper and want to share it with your friends, then you are on the right site because we have the latest collection of love Shayari We are making best love Shayari, latest love Shayari, Hindi love Shayari, two-line love Shayari, love sessions and love status.
Here on this page, we have a large collection of beautiful Love Shayari in Hindi and English with pictures and amazing quotes for WhatsApp and Facebook status. Read this Shayari about love in both Hindi and English languages. I hope you liked this Hindi True Love Shayari Collection.
Shayari is a type of stave, which enables a person to express their deepest feelings from the base of the heart through words.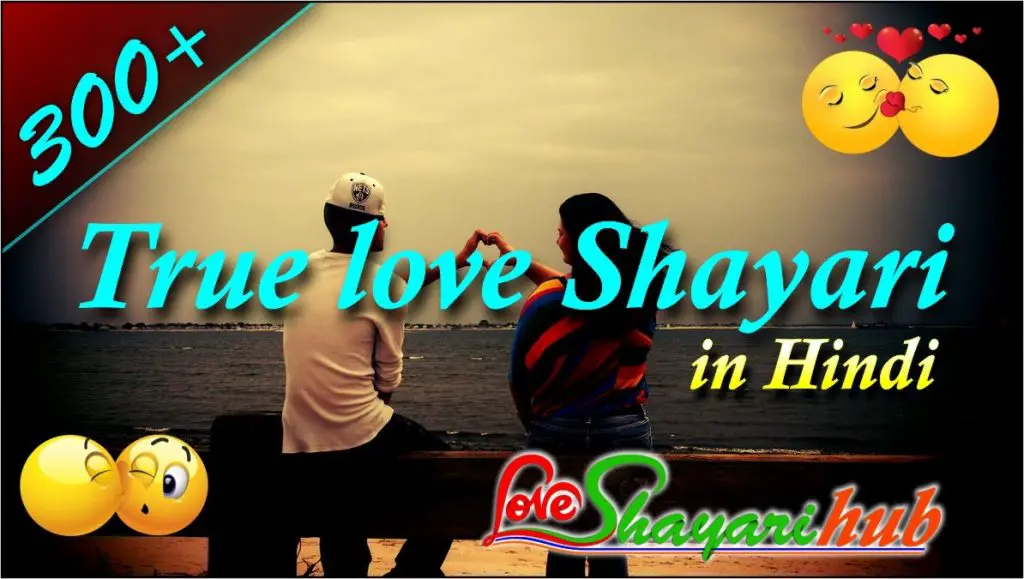 True love shayari in hindi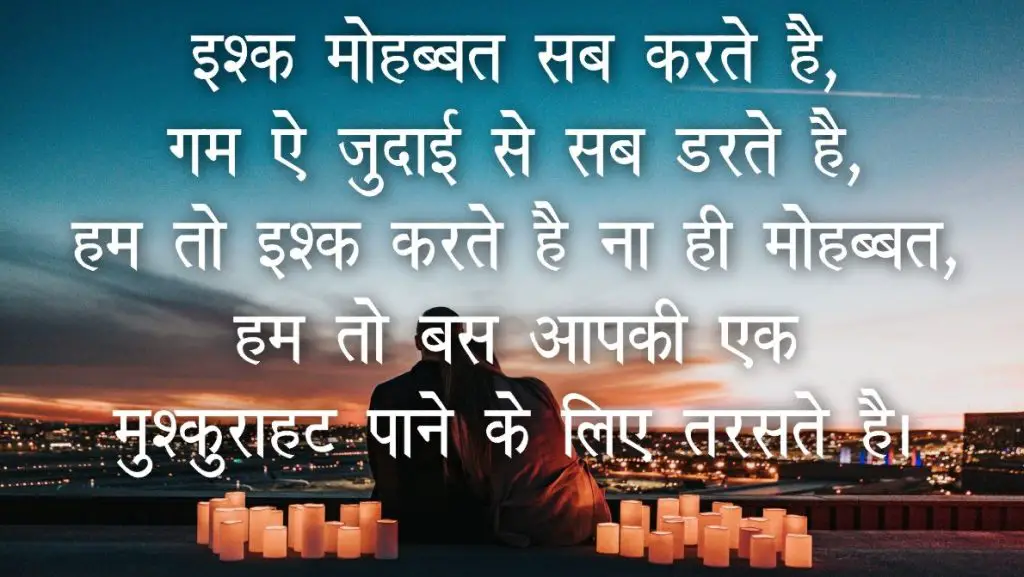 इश्क मोहब्बत सब करते है,
गम ऐ जुदाई से सब डरते है,??
हम तो इश्क करते है ना ही मोहब्बत,
हम तो बस आपकी एक मुश्कुराहट पाने के लिए तरसते है।??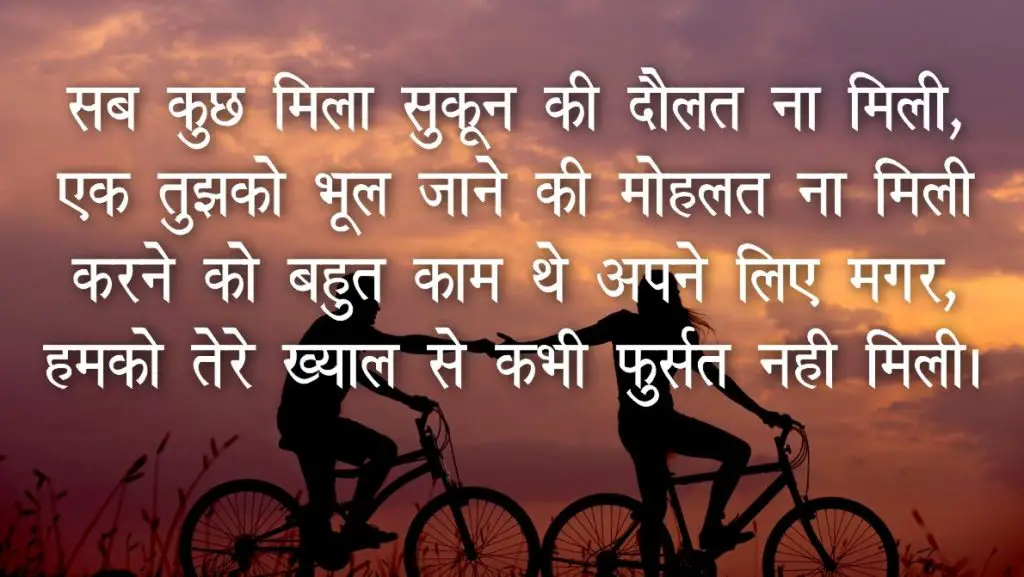 सब कुछ मिला सुकून की दौलत ना मिली,
एक तुझको भूल जाने की मोहलत ना मिली।??
करने को बहुत काम थे अपने लिए मगर,
हमको तेरे ख्याल से कभी फुर्सत नही मिली।।??
तेरी झूठी दुआएं आखिर
काम कर रही हैं देख.
दिल ने धड़कना बन्द कर
दिया पर साँसे चल रही है
तुही बता ऐ दिल तुझे समजाऊ कैसे ??
जिसे चाहता है तू उसे नज़दीक लाऊ कैसे ??
यू तो हर तमन्ना हर अहसास है वो मेरा ??
मगर उस एहसास को ये एहसास दिलाऊ कैसे ??
सब कुछ मिला सुकून ? की दौलत ना मिली
एक तुझको भूल जाने ? की मोहलत ना मिली
करने को बहुत काम? थे अपने लिए मगर
हमको तेरे ख्याल से कभी फुर्सत ?नही मिली
तेरी बेरूखी को भी रूतबा दिया हमने ?
प्यार का हर फ़र्ज़ भी अदा किया हमने ??
मत शोच की हम भूल गए है तुझे ???
आज भी खुदा से पहले तुझे याद किया है हमने????
तुझे रख लिया इन यादों ने
फूल सा किताब में
इस दिल में तुम रहेगे सदा
और महकोगे इन साँसों में
मेरी मोहब्बत की बस इतनी सी कहानी है
एक टुटी हुई कश्ती और सुख हुआ पानी है
एक गुलाब उनकी किताब में दम तोड़ चूका
और उनको याद ही नही की ये किसकी निशानी है
Two Line True love Shayari in Hindi
अदा से देख लो जाता रहे गिला दिल का
बस इक निगाह पे ठहरा है फ़ैसला दिल का
सब मतलब की बात समझते हैं
काश कोई बात का मतलब समझता
उसकी कद्र करने में देर मत करो
जो तुम्हे इस दौर में दिल से चाहता हो
तू इतना प्यार कर जितना तू सह सके
बिछड के जीना पड़े तो जिन्दा रह सके
इश्क वो नही जो तुझे मेरा बना दे
इश्क वो है जो तुझे किसी और का ना होने दे
रिश्ता तोडना मेरी फितरत में नही
हम तो बदनाम है रिश्ता निभाने के लिए
हमें सीने से लगाकर हमारे सारे गम दूर कर दो
हम सिर्फ तुम्हारे हो जाऐ, हमें इतने मजबूर कर दो
वो हाथ कुछ अजीब से लगते है किसी और के हाथों में
जिन हाथों की चूड़ियाँ कभी टुटी थी मेरे हाथों में
गर हो इज़ाजत तो चूम लूँ इन शरबती होंठो को
सुना हे शराब में और लब-ऐ-यार में कोई फर्क नही होता

Dheeraj Kumar